Mesh Coil Technology: R and M Box Pro Vape
November 30, 2022
The current popular best disposable vape flavors packaging is not only in the shape of a pen, but also in a box. The most popular among young people is the shape of a pen. They are small in size and smooth in surface. They are the first choice for many vapers to get started with disposable cigarettes. Today I want to introduce a boxed disposable vape. As the latest product from the famous electronic cigarette brand R and M, the quality and taste of this diposable are beyond doubt.
The number of mouths of this diposable is 1000 puffs more than the common 5000 puffs, which will not appear too much, but it is enough for you to use. The main color of Box Pro's appearance is black. According to different tastes, other colors and patterns are added to the front of the device as embellishments. The overall feeling is bright, which will make you feel very textured and brighten your eyes. The cartoon pattern printed on the front is also uniquely designed, which makes each device unique.
R and M Box Pro includes the use of mesh coils with the latest technology, which makes the gas produced very smooth and the taste created is pure and delicious enough. Pre-filled with 10ml of gourmet e-juice, each flavor will bring you a wonderful taste like being in heaven. The built-in battery is 850mAh, which can be recharged whenever you run out. This is not only a diaposable vape, but also a spiritual companion in life.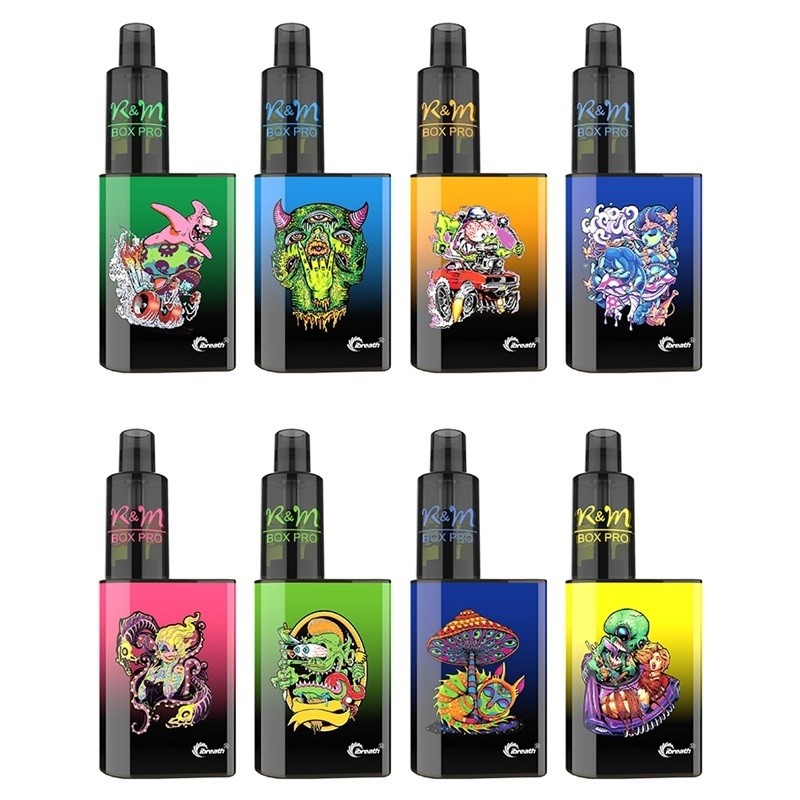 Specifications:
Puffs: Max 6000
Bottle: 10mL
Battery: 850mAh rechargeable battery
Coil: Mesh Coil
Nicotine Strength: 5%
Features:
Integrated 850mAh rechargeable battery
Implanted 6 colors
Special 3D printing pattern technology
Refillable and equipped 10ml imported E-liquid
Newest technology mesh coil
Recommended Products:
naked brain freeze e juice
tres leches e juice
Read More Related Articles: https://www.vapingnews.ca/a-whole-new-level-pablo-bar-mini-disposable/