Will VPro Crystal 8000 be the next out-of-stock King?
August 18, 2023
E-cigarette market new products emerge in an endless stream, perhaps you have been dazzled, and do not know how to choose, today I will introduce a new e-cigarette suitable for all people: VPro Crystal 8000, it comes from the niche brand VPro, is a very convenient disposable vape.
As a New model, I will compare it with the same brand VPro New Jelly 5000, I believe that after reading this article, you will not hesitate to choose to try it.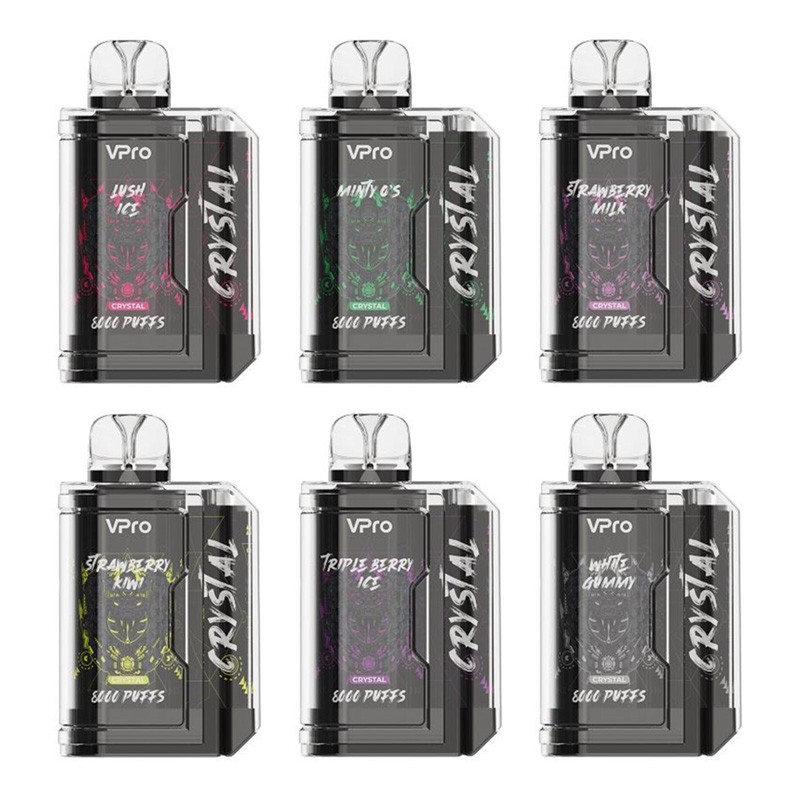 Its understated yet dazzling look
True to its name, the exquisite crystal shell is encased in graffiti, noble and stylish, with a postmodern design style. Compared with the old VPro New Jelly 5000, the design concept is more novel, and the cigarette aesthetic is raised to a new level.
At the same time, they use sustainable materials and do not add to the burden of the Earth's environment.
Strong product performance
It's hard to believe that this compact, portable product achieves 8,000 puffs. A full 18ml of Pre-Filled E-Liquid is a very superior presence in its peers.
Do not worry that it will sacrifice taste and steam for the sake of largemouth number, the built-in Rechargeable 650mAh Battery, coupled with a powerful 1.2ohm Mesh coil, can maximize the restoration of clear and clean taste, to ensure the consistency of flavor. From fruit mixes to desserts, experience unprecedented depth and richness.
The VPro New Jelly set is 5,000 Puffs, which is perfectly adequate for daily use, but if you're looking for something more permanent, VPro Crystal is a better choice for you.
Convenient and user-friendly use
Say goodbye to maintenance and complexity, which is the biggest advantage of disposable vapes. The VPro Crystal 8000 requires no setup, charging, or maintenance. It can be used out of the box, perfect for users who are afraid of trouble like me.
Whether you just want to try e-cigarettes or experienced old player, disposable vape is the primary choice, convenient and rich taste, which is why it is so popular.
The VPro Crystal 8000 also innovates in the number of mouthpieces and technology, avoiding the problems of other disposable cigarettes with too short a life cycle and loss of taste. There is no doubt that it is an impeccable existence and will become the new stock king. Give it a try and take your vaping experience to an unprecedented level.