Ween Off Nic: Snowwolf ZERO Nicotine Free 14ml
January 9, 2023
0mg vape juice will bring you a wonderful taste, which cannot be achieved by disposables containing nicotine salt. For those customers who just want to enjoy the wonderful taste of e-cigarettes, but don't like the feeling of nicotine, there is no better choice than nicotine free vape. Some people may think that this has lost the original meaning of vape, but in fact, disposable or vape juice that does not contain any nicotine is more magical than you imagine.
Snowwolf has launched a disposable vape based on the best-selling models with different nicotine strengths. From the appearance point of view, the design inspiration of Snowwolf ZERO Nicotine Free comes from Snowwolf MINO 6500 Puffs. The appearance is a combination of color and white, and there is a printed avatar of snowwolf printed on the front of the device, and the brand style is very obvious. I love the simple but impressive product design, it makes me feel great.
Snowwolf ZERO Nicotine Free 5500 Puffs is very suitable for people who want to quit smoking completely, because you will completely forget the taste of nicotine when using the product, but it will not make you feel tired or irritable. Instead, sweet fruit flavors will help you quit smoking better. The built-in 1.0ohm mesh coil will maximize the flavor of the product and transmit it to your mouth, allowing you to immerse yourself in the superb atmosphere of the electronic cigarette in 360° when vaping.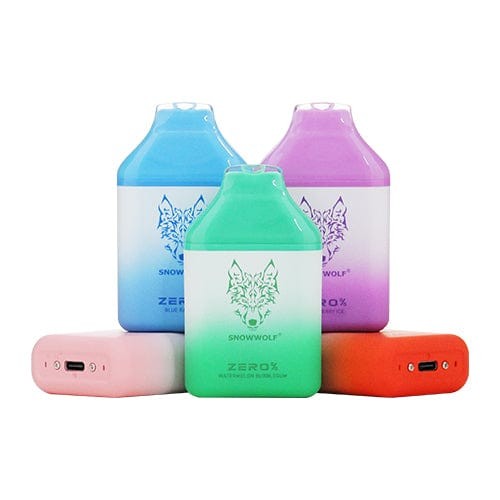 Specifications:
Puffs: Max 5500
Battery: 650mAh
Output Power: 11W
Vape Liquid Capacity: 14mL
Nicotine Strength: 0mg
Coil: 1.0ohm Mesh Coil
Charging Port: USB Type-C
Features:
650mAh Rechargeable Battery
Draw-Activated Firing Mechanism
Approximately 5500 Puffs
1.0ohm Mesh Coil
14mL Pre-Filled E-Liquid
USB Type-C Charging Port
Nicotine Free Vape
Recommended Products:
pod juice blue razz slushy
naked american patriot vape juice
Read More Related Articles: https://www.vapingnews.ca/small-box-big-power-elf-bar-nicotine-free-vape/