Satisfy Any Vape Enthusiast: Coastal Clouds Tres Leches
December 8, 2022
I'm a serious dessert lover, so I really like Coastal Clouds salt nic vape juice, a sweet product. There are not a few categories of E-Juice that taste sweet, but most of them have a fatal weakness, which is too sweet and greasy, which makes it difficult for vapers to endure for a long time, and may even cause nausea and loss of appetite. Therefore, taste blenders need to control the proportion of sweetness in sweet products, so that it will not be reversed.
When it comes to sweet E Liquid, Coastal Clouds Tres Leches Vape Juice, a flavor inspired by a famous Spanish delicacy, has to be mentioned. The batter is stirred and mixed with evaporated milk, condensed milk and heavy cream. After being baked in the oven, the golden sponge cake is freshly baked. This cake is fragrant, fluffy and delicious, just looking at it makes people salivate. In such a season, in the coming Christmas, there is nothing more suitable aroma than it.
Tres Leches E Juice exudes the rich aroma of three dairy products to the extreme. It is no exaggeration to say that every sip of your vape and the vape cloud produced by each flower are rich and creamy fragrance. This makes you feel as if you are immersed in a large cloud of creamy fragrance. There are 0mg, 3mg and 6mg nicotine strength for you to choose, and the 60ml e-juice capacity can also allow you to enjoy this delicacy for a long time, come and enjoy this classic Spanish dessert with us!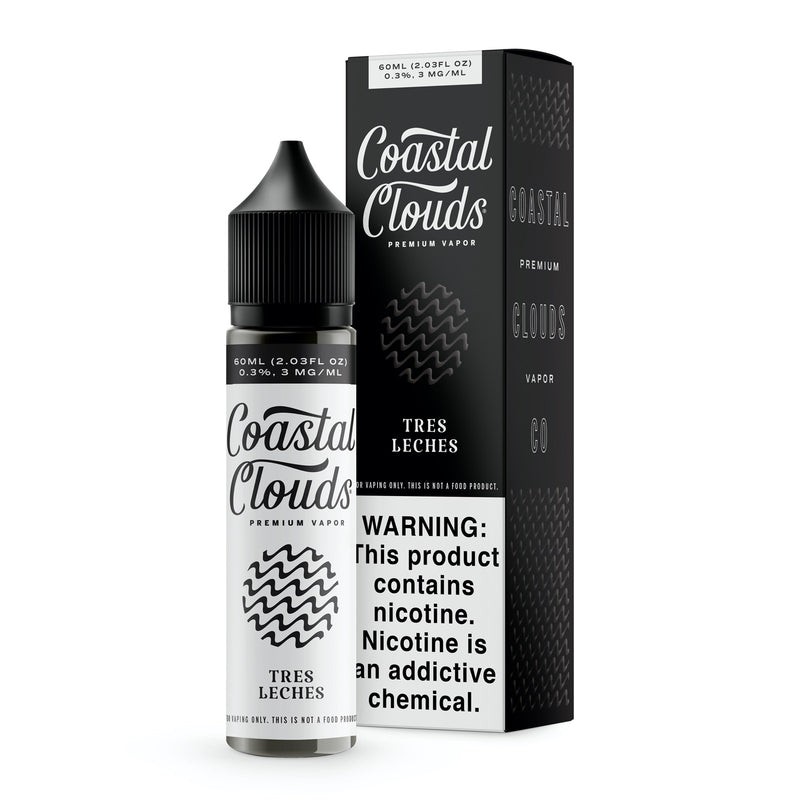 Specifications:
Brand: Coastal Clouds
VG/PG: 70/30
Bottle Size: 60ML
Nicotine Strengths: 0mg, 3mg, 6mg
Flavors: Sweet Milk, Vanilla Cake, Cream
Features:
Child Resistant Cap
Made In USA
30% PG With 70% VG
60ml Unicorn Bottle
Available in 0mg, 3mg, 6mg
Recommended Products:
big elf bar
centaurus m200 price
Read More Related Articles: https://www.vapingnews.ca/perform-as-well-as-you-want-vessel-vista-edge/