Produce Tons of Flavors: Cloud Bar 7800 Disposable
January 6, 2023
At present, disposable vapes are used in a wide range of scenarios, and the frequency of use is increasing year by year. Many people are gradually switching from various vape kits to disposables for the convenience of life. The benefits of these single-use products are many, such as more flavor options, almost no operational difficulties, and affordable prices. With the increase in demand for vapers, related products on the market have also made many adjustments in product structure in order to cater to consumers' preferences.
Just imagine, when you make an appointment with your friends for a ten-day or half-month trip, 6000 puffs may not be enough, and 10,000 puffs will be a bit of a waste, then Cloud Bar 7800 Puffs Vape will be just right. For the convenience of use, this product has a 1:1 shape that restores the shapes of beverage bottles and straws. For some people who don't like cigarette holders, it may be more suitable to use a straw, just like drinking a drink. At the same time, the color matching is also very particular, and overall it is an interesting product.
Cloud Bar 7800 Vape prints various cartoon versions of wild animals on the fuselage. If you like to collect, then it will look cool to collect all the patterns of this product and put them together. The device is equipped with a 600mAh built-in rechargeable battery, and 11ml of vape juice pre-filled with various flavors, which makes the whole use process very simple. The most amazing thing is the deployment of these ten flavors, many different fruits and mint are combined, ready to shock your taste buds.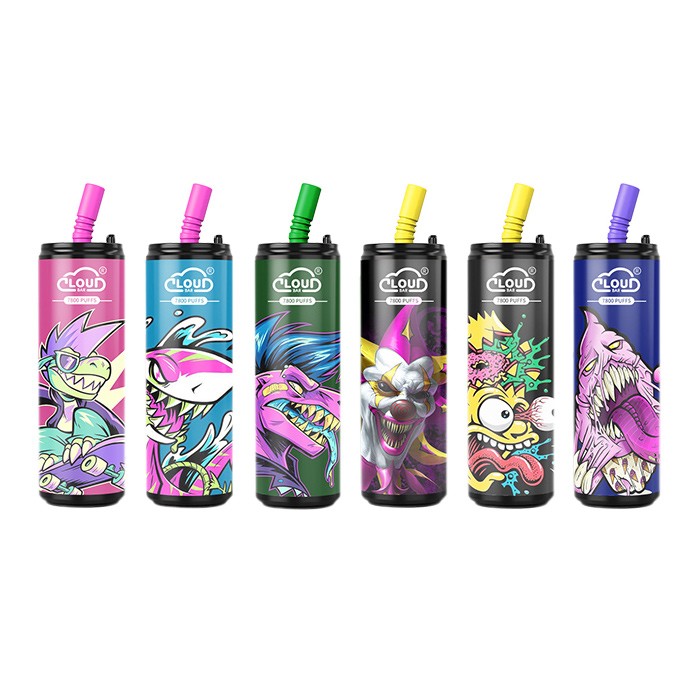 Specifications:
Size: 30mm*128mm
Puffs: Max 7800
E-Juice Capacity: 11ml Pre-Filled
Battery: 600mah Rechargeable Battery
Nicotine Strength: 20mg
Resistance: 1.0 Mesh coil
Charging Port: Type C
Features:
50mg Nicotine Strength
Mesh Coils
For MTL Vaping
11ml Vape Juice Capacity
Approximately 7800 Puffs
Draw-Activated System
600mAh Battery Rechargeable Via USB Type-C
Recommended Products:
fruits flavor e juice
sweet vape juice
Read More Related Articles: https://www.vapingnews.ca/incredible-performance-lost-vape-thelema-mini-kit/