Making Ultimate Taste Better: SMOK Novo Bar AL6000
December 27, 2022
At present, many people's impression of SMOK is still in the famous NOVO series, RPM series, MAG series, NORD series and so on. But what I want to tell you is that SMOK also has its own disposable vapes product line, and it is not inferior to the popular products on the market. There is no need to introduce too much about SMOK's technology and achievements in electronic cigarettes. If you are a vaper with certain experience, then you must be very clear about the meaning and brand tone of SMOK.
The disposable vape launched by SMOK this time is called Novo Bar AL6000, but from the appearance, it looks more like a small pod vape kit. Because the design of SMOK is very careful, it has a very strong visual impact. An irregular box is used on the front to cover product information, patterns, and tastes. The border is made of marble, adding a little unique detail to the undulating color of the device.
SMOK Novo Bar is pre-filled with 13ml of 5% nicotine content vape juice, with a 650mAh built-in battery, the rechargeable device allows it to work continuously, providing the best vaping experience. In addition, the device is also equipped with mesh coils, adjustable airflow control system, battery indicator light and other functions, making you feel that this is not just a disposable kit, but more like your vaping companion, which is indeed the case.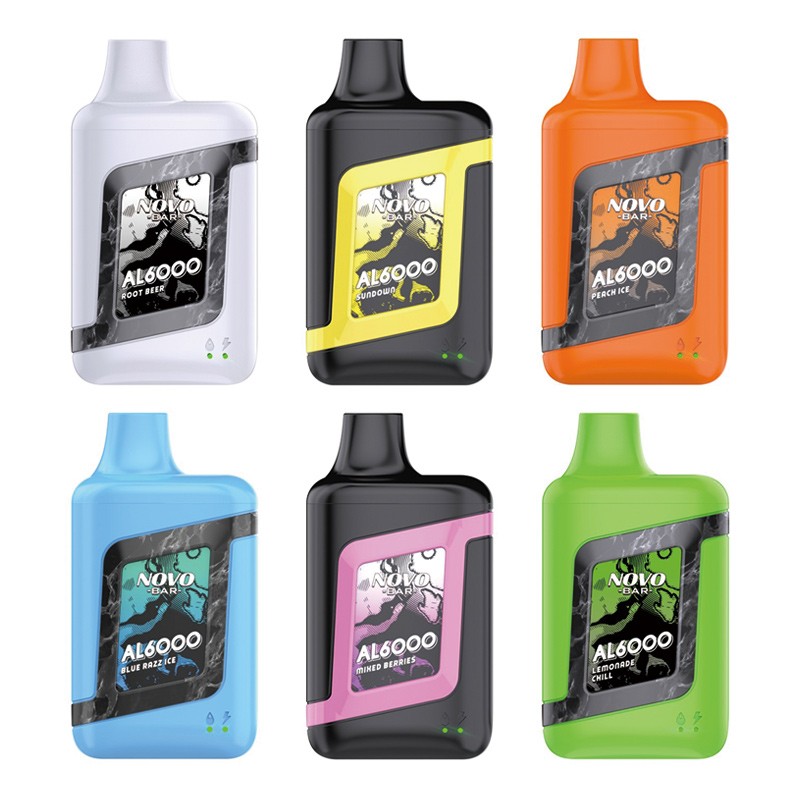 Specifications:
Puffs: 6000 Puffs
Battery: 650mAh
E-Juice Capacity: 13mL
Nicotine Strength: 50mg
Charging: Type-C
Coils: Mesh Coils
Operation: Draw-Activated
Features:
No Maintenance Required
USB Type-C Fast Charging
Integrated Mesh Coil Design
Adjustable Airflow Control
E-Liquid Indicator Light
Unique Smok Alien Series Design
Auto-Draw Activation System
Recommended Products:
cheap blood orange mango e juice
buy coastal clouds peach tea
Read More Related Articles: https://www.vapingnews.ca/high-degree-of-reduction-okino-c100-kit/